Regular price
Sale price
₹ 2400.00
Unit price
per
Sale
Sold out
Meet good grease, a mess-free and squeeze-easy cleansing balm that provides YOUR FAVOURITE and the most coveted balm texture, in a TUBE! Formulated with a 5-Oil Ferment Complex and Mango Seed Butter, it luxuriously melts on touch and deeply cleanses your skin to get rid of dirt, oil, environmental impurities, SPF and stubborn makeup without stripping the skin dry. No double cleansing needed with GG ;)
International orders may be subject to an additional customs duty depending on the the laws of the destination country. 
Share
View full details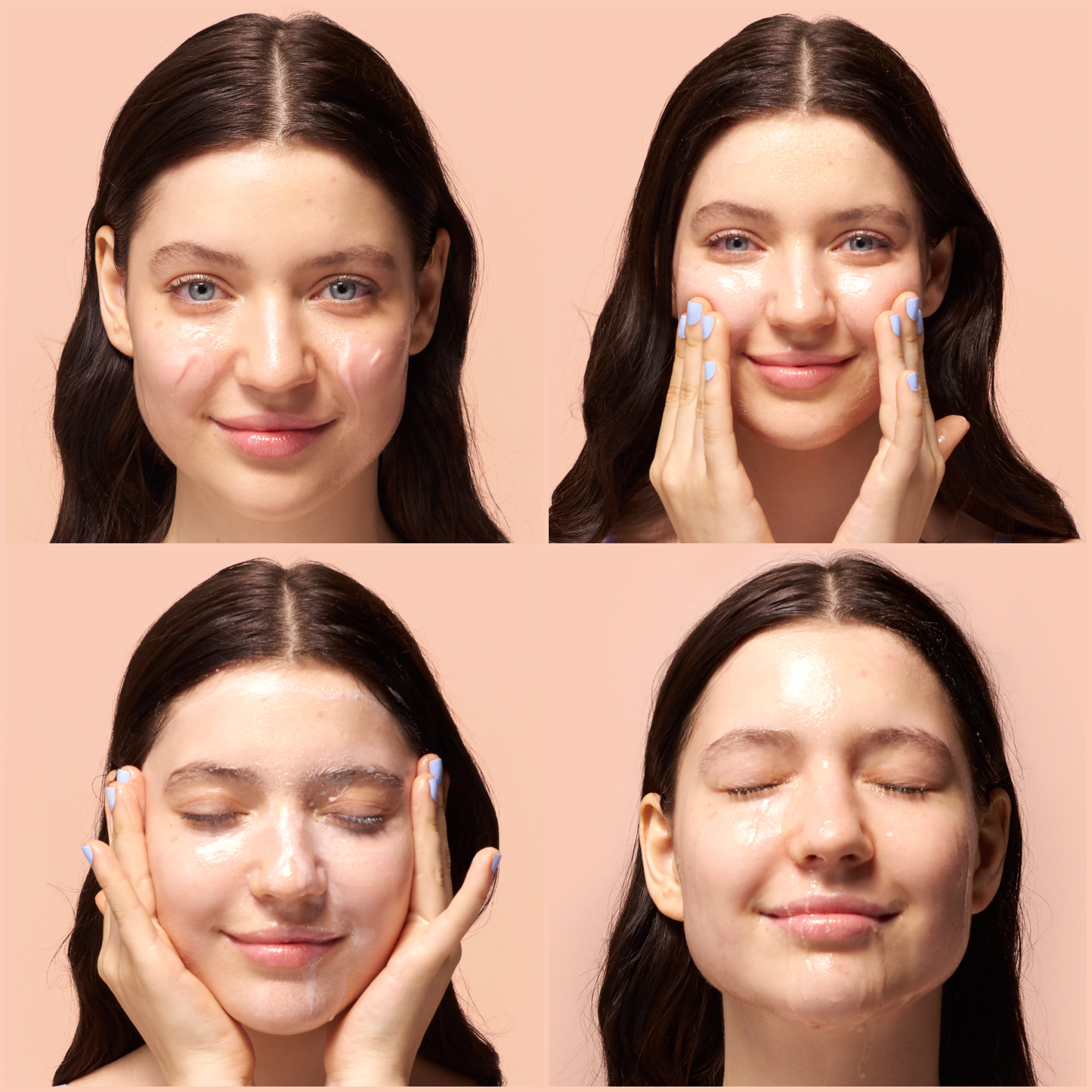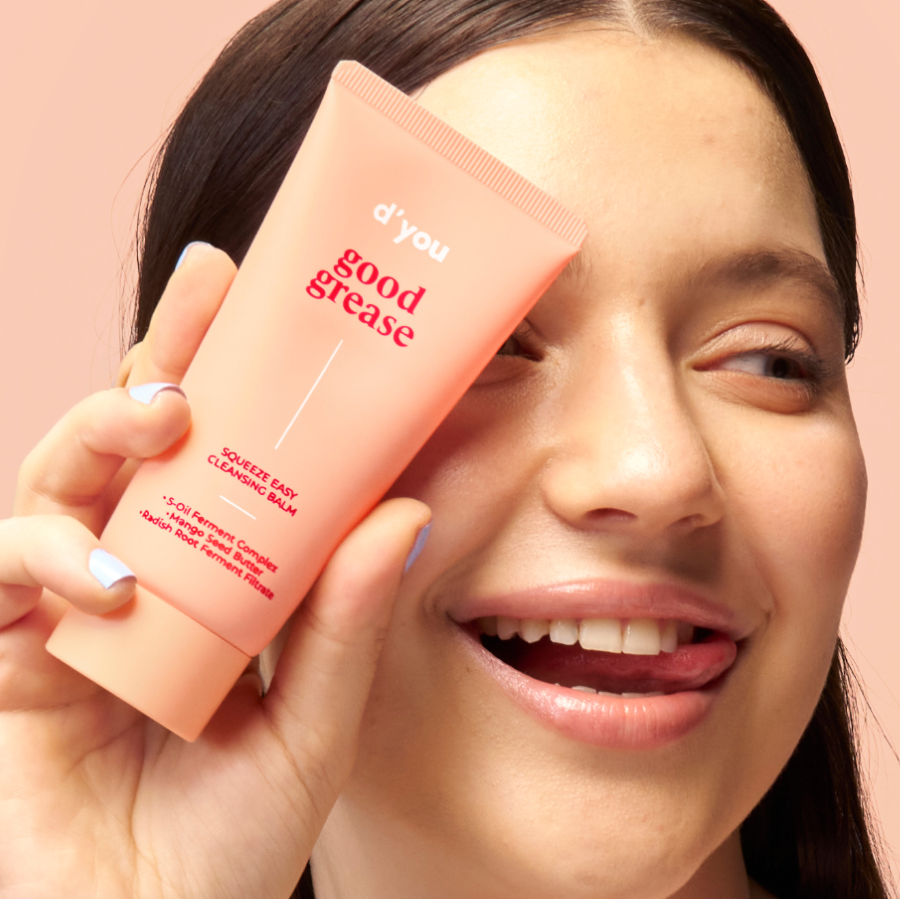 Deep cleansing & pore refining
Removes stubborn makeup & sunscreen gently
Non-stripping & barrier friendly
Anti-Bacterial
Deep cleansing & pore refining
The luxurious buttery texture of good grease melts on your skin and spreads into a thin silky oil, with just the right amount of slip, which when massaged on the face enters your pores and skin crevices to pull out gunk, impurities and dirt that settles onto it and give your skin a deep cleanse.

The deep cleanse with GG helps keep your pores clean, and prevent skin congestion which is the root cause of acne and closed comedones.
Removes stubborn makeup & sunscreen gently
Skincare 101 - never go to bed without removing your makeup and sunscreen!! We hear this all the time, and now good grease will make it a notch easier for you to follow this rule.

Makeup and sunscreen are oil based formulas that notoriously settle into our pores, which leads to congestion in the skin, and is hard to get rid of with just a water based cleanser. good grease can effortlessly melt away the most stubborn makeup and the thickest of sunscreens easily from the skin without leaving behind any residue.
Non-stripping & barrier friendly
A good cleanser will keep your barrier soft and cleansed without stripping it dry, and that was our main objective with good grease. Instead of using normal oils we used fermented oils that better adhere to and penetrate the barrier while also aiding in cleansing the surface of the skin.

The mango seed butter (rich is natural fats) used in the cleanser alongwith emollient surfactants like Peg-20 Glyceryl Triisostearate help in keeping the skin feeling soft and non-drying after the cleanse.
Anti-Bacterial
GG contains Radish Root Ferment Filtrate and Mango Seed butter, which are both rich in anti-bacterial properties, an absolute must attribute in cleansers.

Anti-bacterial properties in GG help to cancel out any bacterial infections, pathogen attacks or any environmental stimuli that sits on our face all day, and gives you a fresh clean canvas to use your other skincare products on top.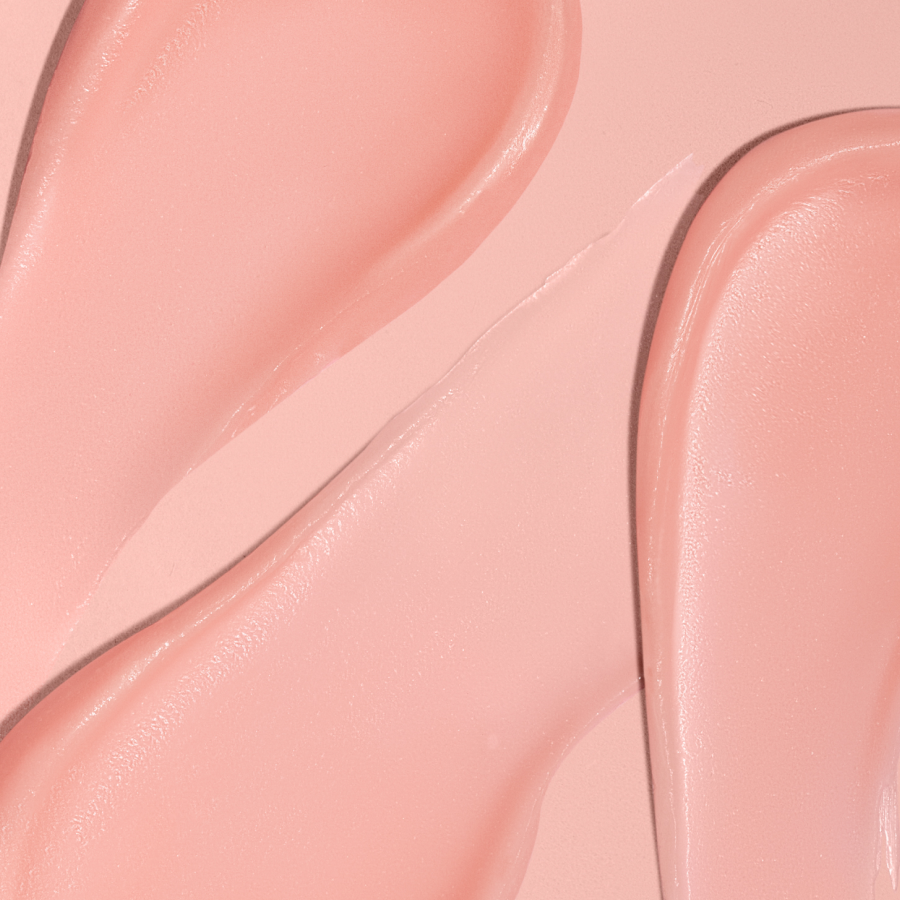 NOURISHING OILS & BUTTER
5-Oil Ferment Complex of:
Jojoba Seed Oil + Argan Oil + Camellia Seed Oil + Moringa Seed Oil + Sunflower Seed Oil
ANTI-MICROBIAL
Candida Bombicola/Glucose/Methyl Rapeseedate Ferment + Radish Root Ferment Filtrate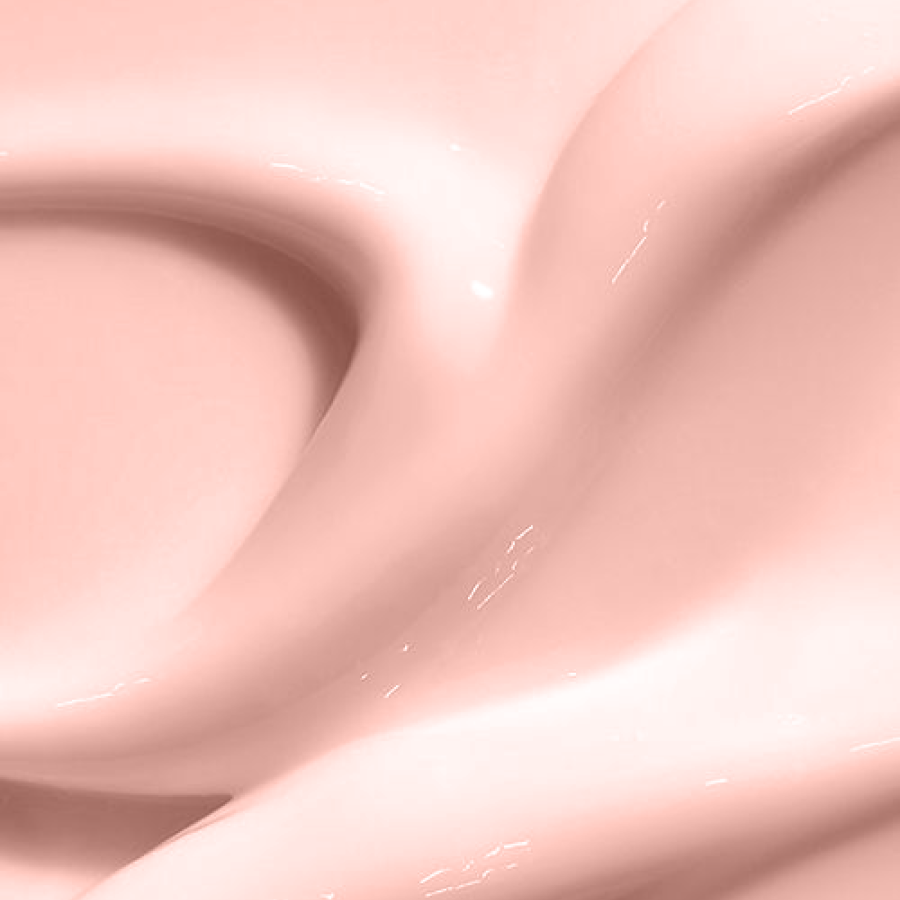 SOOTHING & NOURISHING
Mango Seed Butter + Prickly Pear Extract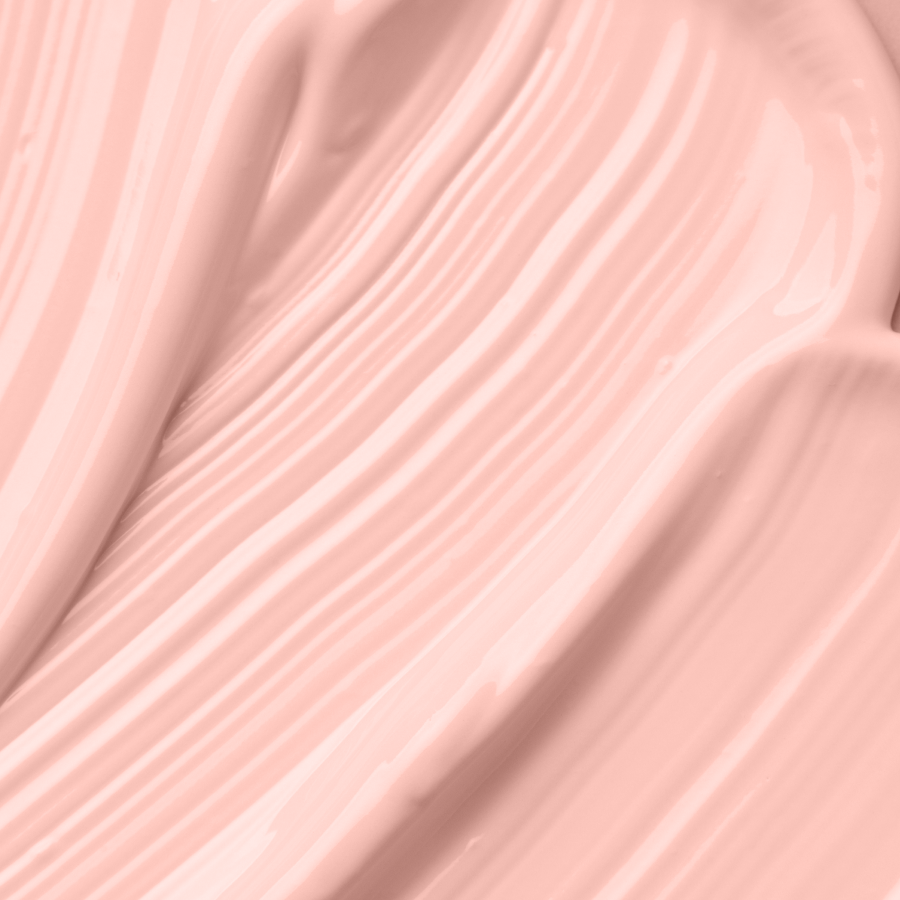 EMOLLIENT SURFACTANTS/ CLEANSERS
Cetyl Ethylhexanoate + Caprylic/Capric Triglyceride + Peg-20 Glyceryl Triisostearate + Peg-10 Isostearate
PM
Routine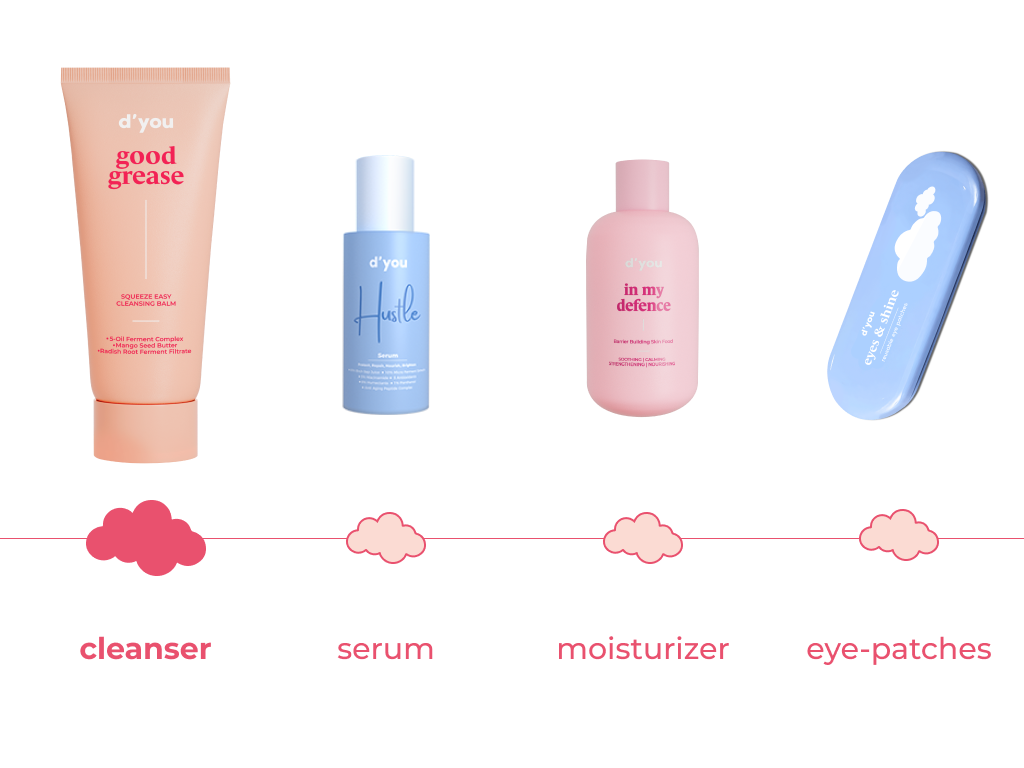 Use it as the first step in your PM routine. Make sure your hands and face are dry.
Squeeze out the desired amount of balm on dry hands, and gently massage it onto a dry face and neck for at least 30 seconds.
If you're wearing makeup, keep massaging until the makeup melts with the balm. Now wet just your palms and massage your face & neck with the wet palms to emulsify (break down) the balm. Repeat this step 2-3 times till every inch of your face has emulsified (whitish foam).
Once you've emulsified the balm from your entire face, splash water to rinse off the emulsified balm and get rid of all the dirt, oil, and impurities.
Now you have a clean face that's still soft and well-nourished.
IMP NOTE: When you open a new tube, the first squeeze is VERY VERY hard, because the balm is packed in a vacuum inside the tube. So you'll need a LOT of strength to dispense out the first squeeze of balm, but promise after the first squeeze it's all smooth sailing.
Oil cleansing follows the simple principle of "like dissolves like". Oils are a special type of solvent because they're lipophilic, meaning they attract oil molecules. So, when you massage an oil cleanser onto the skin, the oil in the cleanser attracts and pulls out oil-based impurities, such as sebum, makeup, and sunscreen, that accumulate in the skin through the day. Once the oil has bonded with the impurities, it can be easily rinsed off with water.
The size of our pores is genetic, and nothing can make them smaller in size. However, it's not the actual size of your pores that bothers you, it's how big they appear that bothers you. Pores appear bigger when minute particles of dust and gunk settle into them, stretch them out and make them look darker and bigger. The best way to fix this is to use an oil based cleaner (because oil attracts oil) and cleanse your skin deeply to get rid of the gunk from the pores and thereby make them look smaller.
Oil cleansing is an effective method for removing makeup because it can dissolve even stubborn, waterproof formulas that are difficult to remove with traditional cleansers. Makeup products are oil-based formulas, and these can be difficult to remove with water-based cleansers. When an oil cleanser is applied to the skin, it works to loosen and dissolve the makeup, allowing it to easily lift away from the skin's surface.
Yes, GG works very well for dry skin. Traditional foaming cleansers can be harsh and strip the skin of its natural oils, leading to dryness and irritation. Oil cleansers, on the other hand, effectively remove impurities and makeup while also providing hydration and nourishment to the skin. GG contains Mango Seed Butter which is intensely moisturising, anti-inflammatory and extremely helpful in the repair of dry, itchy skin. If your skin is extremely dry, we would recommend not following up with a second cleanser after GG.
Yes, GG will suit oily and acne-prone skin very well. It may seem counterintuitive to apply more oil to already oily skin, but using an oil cleanser can actually help to regulate the skin's natural oil production. When you strip the skin of its natural oils with harsh, drying cleansers, the skin may overcompensate by producing even more oil. However, using an oil cleanser can help to dissolve excess sebum and unclog pores without disrupting the skin's natural oil balance. GG also contains Radish Root Ferment Filtrate which has antimicrobial properties and helps prevent the growth of harmful bacteria on the skin. While GG is formulated to work as a single cleanse as it does not leave any oil residue behind, you can follow it up with a second cleanser if you feel like your skin needs it.
Yes, GG works very well for sensitive skin. In fact, it can be a gentle and effective way to cleanse the skin without causing irritation or dryness. Traditional foaming cleansers can be harsh and contain ingredients that can cause sensitivity. Oil cleansers, on the other hand, are typically formulated with natural oils that are gentle and non-irritating. They can effectively remove impurities and makeup while also providing hydration and nourishment to the skin. GG is formulated with Mango Seed Butter and Radish Root Ferment Filtrate, which are anti-inflammatory and soothing in nature. After cleansing with GG, your skin will feel deeply cleansed without any irritation or redness.
We recommend using good grease only in the PM routine. You may follow it up with a second cleanser if you feel like your skin needs it but it is not necessary as GG is formulated to work as a single cleanse without leaving any oil residue behind.
Yes, GG can be safely used during pregnancy and breastfeeding. It does not contain any ingredients that increase cellular turnover like retinol, which are usually the ingredients warned against usage during such times. All ingredients used in GG are under clinically recommended doses and therefore, safe and effective on the skin. :)
"I can literally remove waterproof makeup in minutes with GG without stinging my eyes "
"Removes makeup effortlessly and leaves my skin feeling super smooth just after 1 use!"
"Left my skin feeling extremely hydrated & nourished. It does not strip the skin whatsoever and is perfect for dry skin."
"The cleanser is absolutely non-drying. I have used it on my face even on the days I had an eczema flare up and it did not irritate my skin at all!"
Magic in a tube
Thank you for making the most magical products and bringing it into the Indian market. I am writing this review after only having tried Good Grease twice and every bit of your claim is true. My skin has never felt this fresh, soft, radiant and even bright after just one wash. Ok this seems like a paid review bs but now I'm obsessed with this brand more than ever.
Two orders
I have tried your hustle cream and now I've ordered the day cream, both times I received the package the packaging had been opened, kindly let me know if this is ok.
Good Grease
Good Grease is one of the best cleansing balm i have come across after a very long time. Beautifully cleanses the skin and feels super refreshing.
Great product Shamika ! Your effort and research is creditable.
Why are all your products so ridiculously priced? There are far more established brands in the market with cult products. This is unaffordable to even try out