Regular price
Sale price
₹ 1650.00
Unit price
per
Sale
Sold out
To kickoff our birthday month, we have given our signature eye patches a slight makeover for a more minimalistic look that suits all skin tones. These clear eye patches are made from 100% medical-grade silicone and provide the same occlusion benefits as the original eye patches. We have very limited stock of these birthday-edition patches so get them before they run out.

Get to know the eye patches:
The skin under our eyes is thinner than the rest of our face , which means this area has lesser occlusion, and needs a little extra help for skincare products to work better. Presenting, eyes & shine - reusable under-eye patches, made out of medical grade silicone, that provide you the extra help you need to keep your under-eyes nourished and hydrated.

These patches are fun but also guilt-free because they are NOT single use. Made from robust material that's reusable, these patches will last you for a long long time. They will help increase the absorption of your favourite serums and creams by creating a seal over your skin. Start your mornings with just 20 minutes of using these masks under your eyes, and experience super nourished, hydrated and plump under-eyes all day long!

International orders may be subject to an additional customs duty depending on the laws of the destination country. 
Share
View full details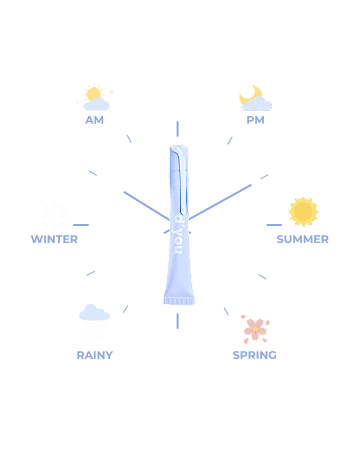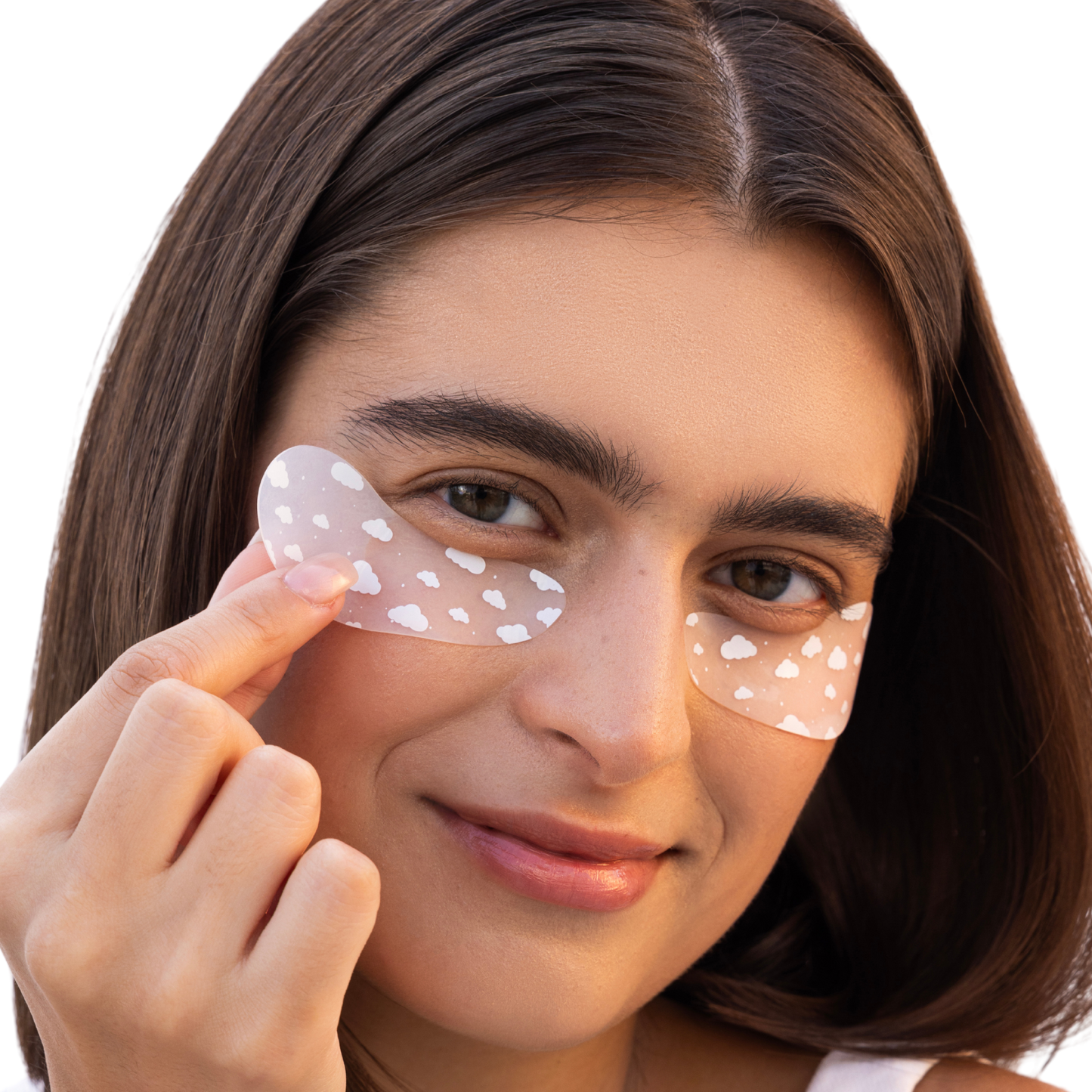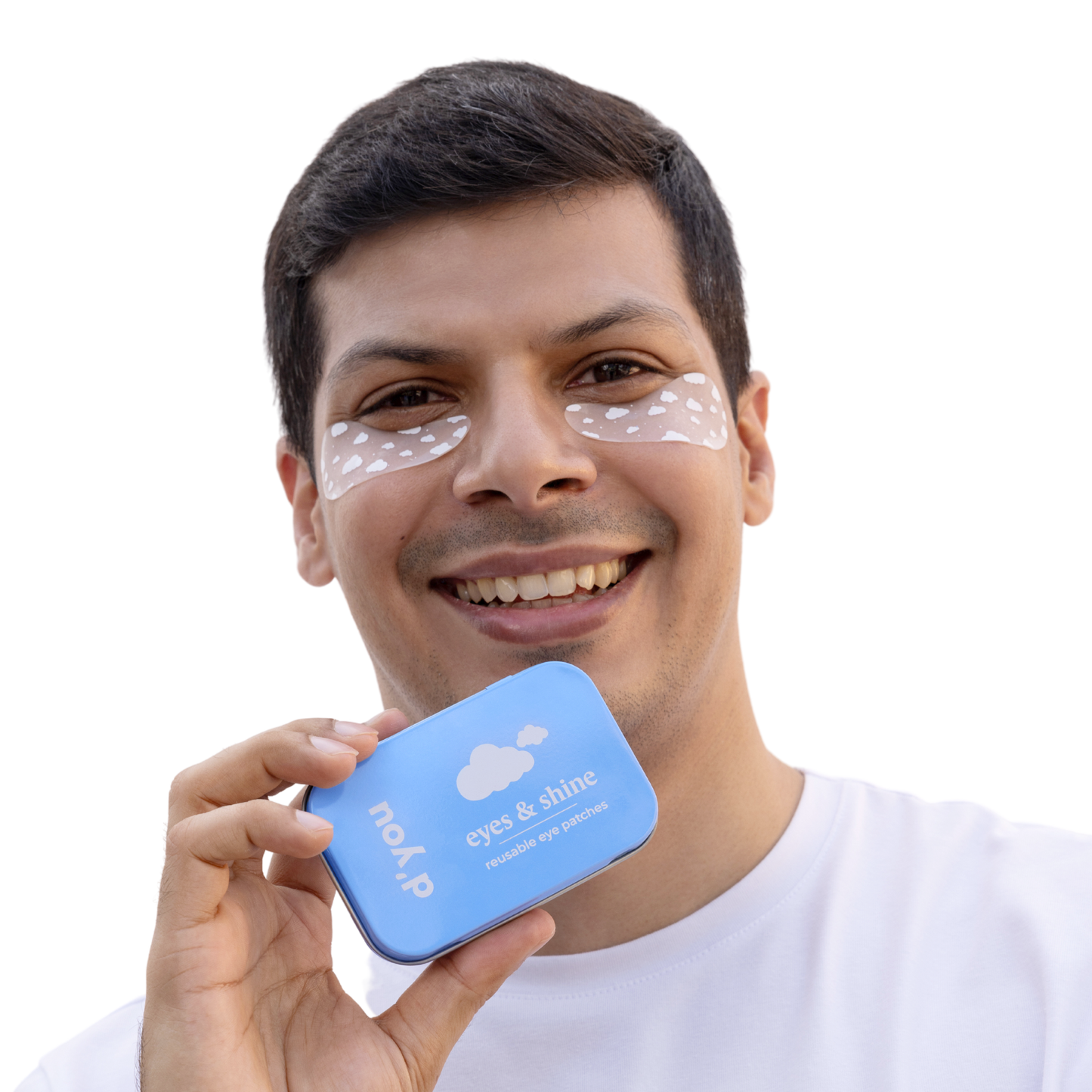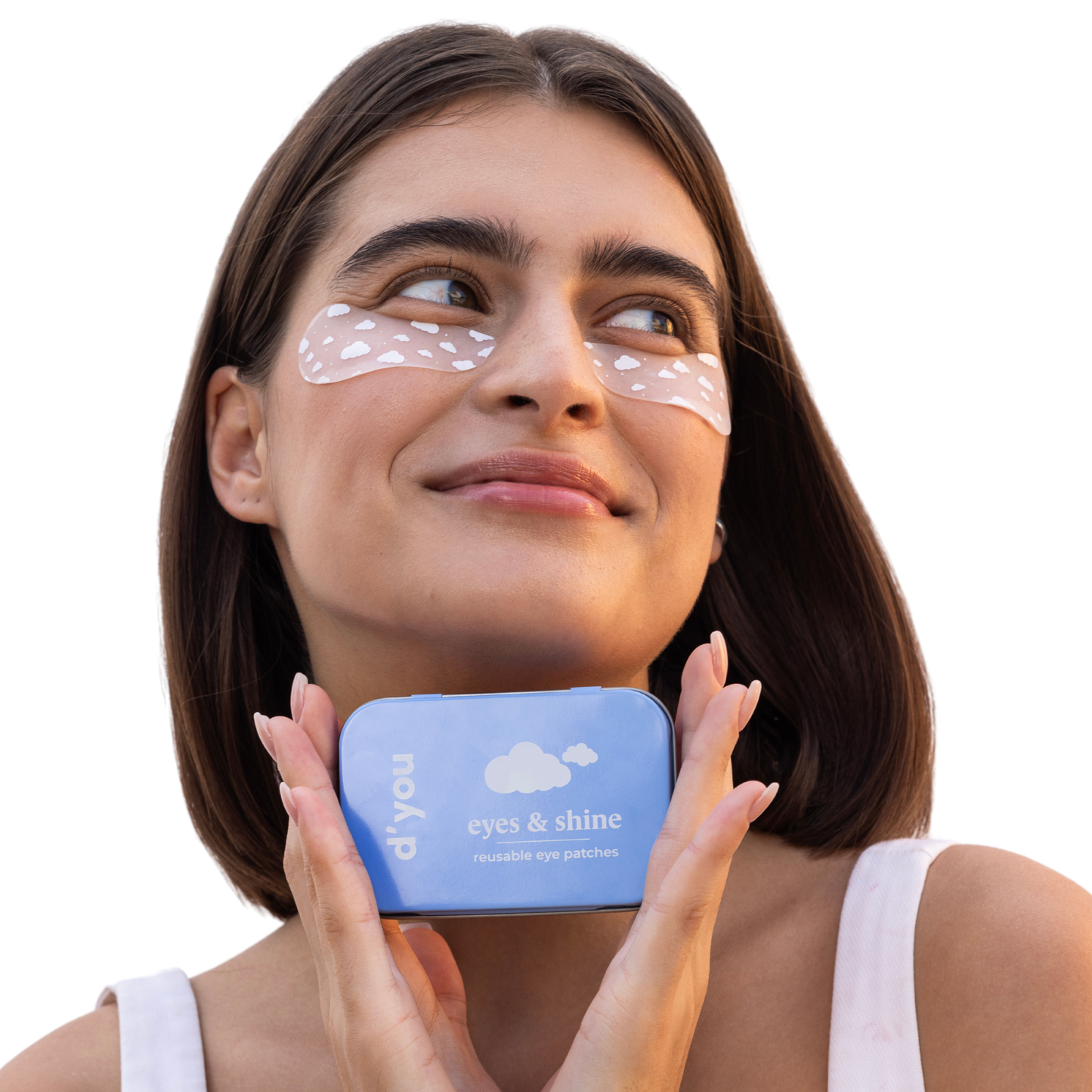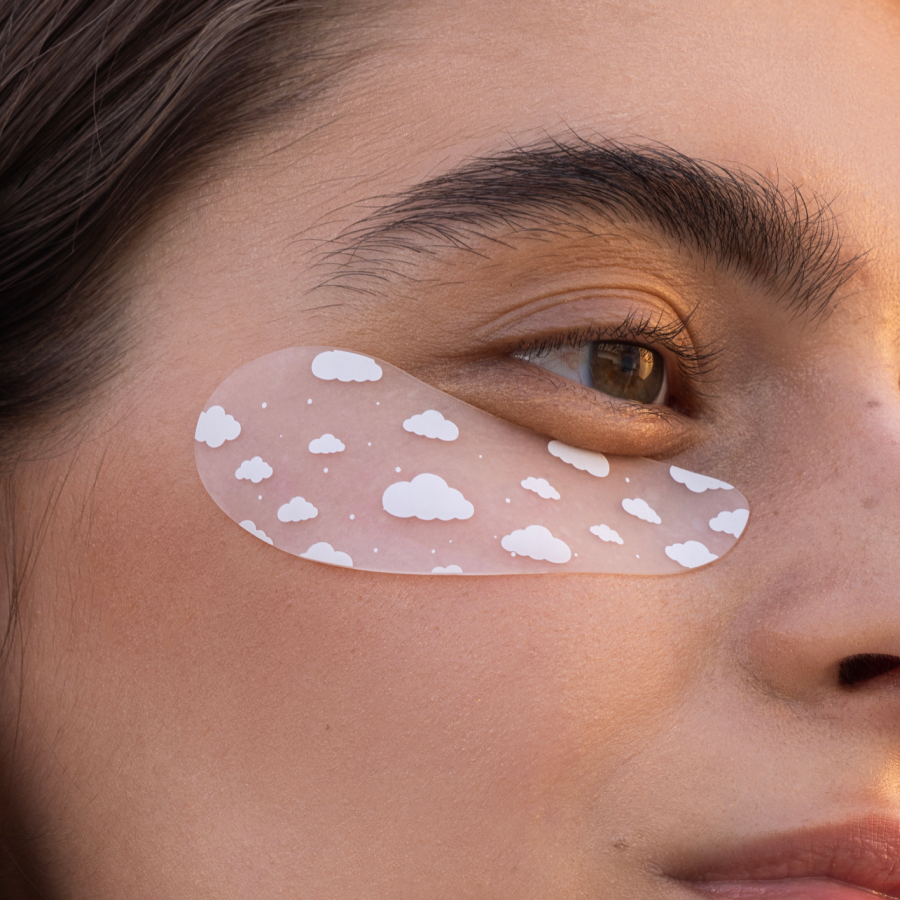 Maximize absorption of existing skincare products
Experience hydrated and smooth under-eyes
Get creative with your make-up
Maximize absorption of existing skincare products
The eye patches enhance the effect of your skincare products by creating a seal on the skin. With increased absorption, you stand to get the best results from your existing products.
Experience hydrated and smooth under-eyes
Be it fine lines, wrinkles, puffy eyes, or dry under-eyes, eyes & shine can be used in multiple ways to target different under-eye concerns. Not just on the under-eye, these patches can be used anywhere on your face and neck to provide extra nourishment to rough and dry patches. Just pair them with products that are super hydrating and nourishing, and witness plump under eyes in minutes!
Get creative with your make-up
Has the perfect winged eye-liner always eluded you? eyes & shine may be what you need. You can use the eye patches as a stencil for all your experiments with eye-liner, cut crease and for catching any eye-shadow fall out.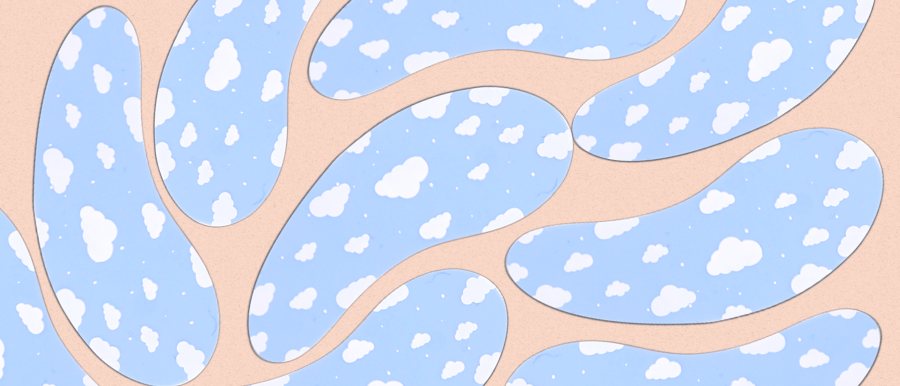 100% medical grade silicone
AM
+
PM
Routine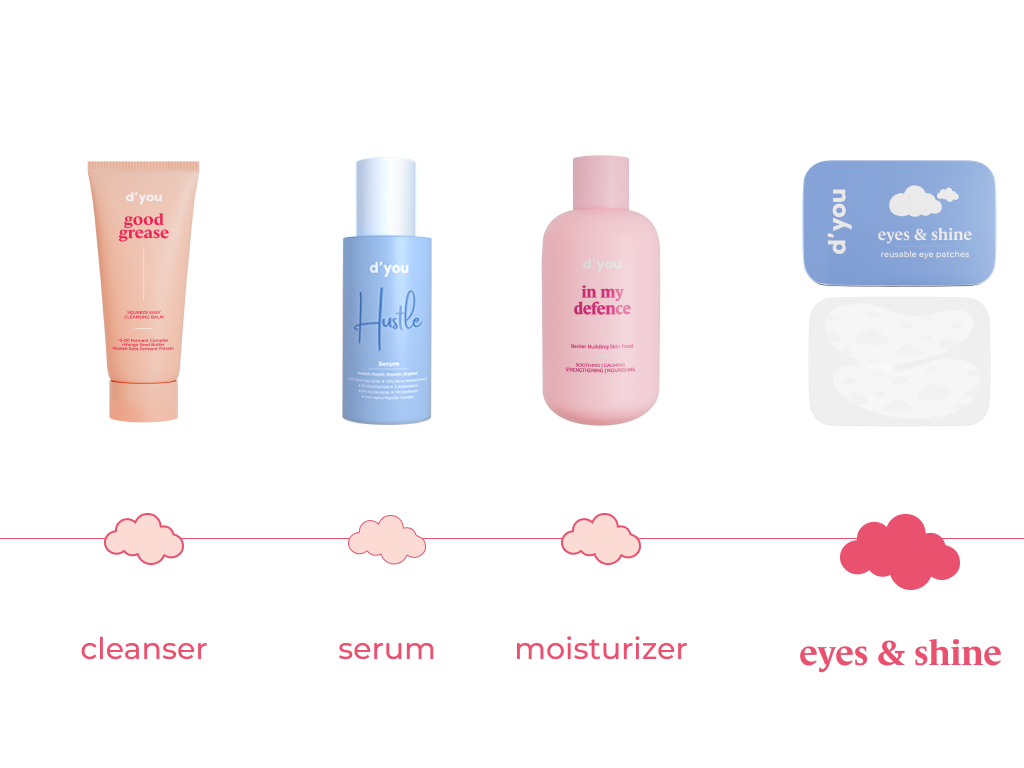 Apply your favourite eye cream, serum or moisturiser (except retinoids and exfoliating acids) around the eye area; or simply complete your full skincare routine as per normal. Then wait a couple minutes until your face is tacky (not too damp from the skincare), and then place the patches under your eyes for a minimum of 20 mins. You can keep them on for as long as they stay put or as long as you're comfortable having them on. There's no upper limit here! Once done, peel and witness plump and hydrated under eyes!
After every use, wash them with water and soap, pat dry with a towel and after they have dried, store them flat inside the tin box. That's it!
Tip: For maximum effect, pop the eye patches in the fridge before use and apply under the eyes on top of your favourite eye treatment. Sit back, relax and let them work their magic.
We recommend using the eye patches at least once a day. You can use them as often as you like but make sure to keep them on for a minimum of 20 minutes each usage.
You can use any of your existing face serums, moisturisers or eye creams under the eye patches. We strongly recommend pairing the eye patches with Hustle for an intense hydrating, calming and plumping experience.
Avoid using the eye patches on prescription ointments or strong actives that can be irritating/ harsh on the skin. The patches increase the absorption and effectiveness of any products used underneath so you need to be careful when using prescription products or strong actives like exfoliating acids and retinoids.
The eye patches are made out of 100% medical-grade silicone so if you take care of the patches as indicated here, there is a very good chance that they will last you at least one year. However, the same may not be true for the print. Depending on the usage, the print on the patches may start fading sooner. But that does not affect the functionality of the patches in any way!
While the eye patches by itself are absolutely safe during pregnancy, the safety of their usage will depend on the products they are used with. Therefore, we suggest that these patches should not be used with any products that are not safe during pregnancy.
The eye patches are made from 100% medical-grade silicone. They do not contain any product within them. So, you can pair them with any serums, moisturisers or eye creams from your existing routine to increase the efficacy of the products.
Average, over hyped
I've been using it daily. Don't see much of a difference in my skin.